Description
It's that time of year! Order your table settings now! A Huge Hollow Chocolate Pumpkin. Now that's a memory maker for sure! No one will forget the Place setting at your Social Gathering.
Double your Fun! Try a Smashin Pumpkin! Filled with Sweet Chocolates and A Silly Surprise!
#Ourchocolatesarememorable. Enjoy!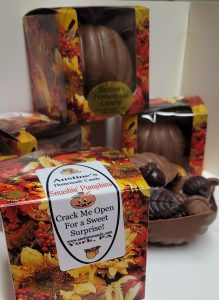 Hollow Chocolate with a Sweet Surprise A 14 ounce Chocolate Pumpkin, handpoured and like everything else in our shop, you order it we will make it. This will be the best Pumpkin you ever smashed!